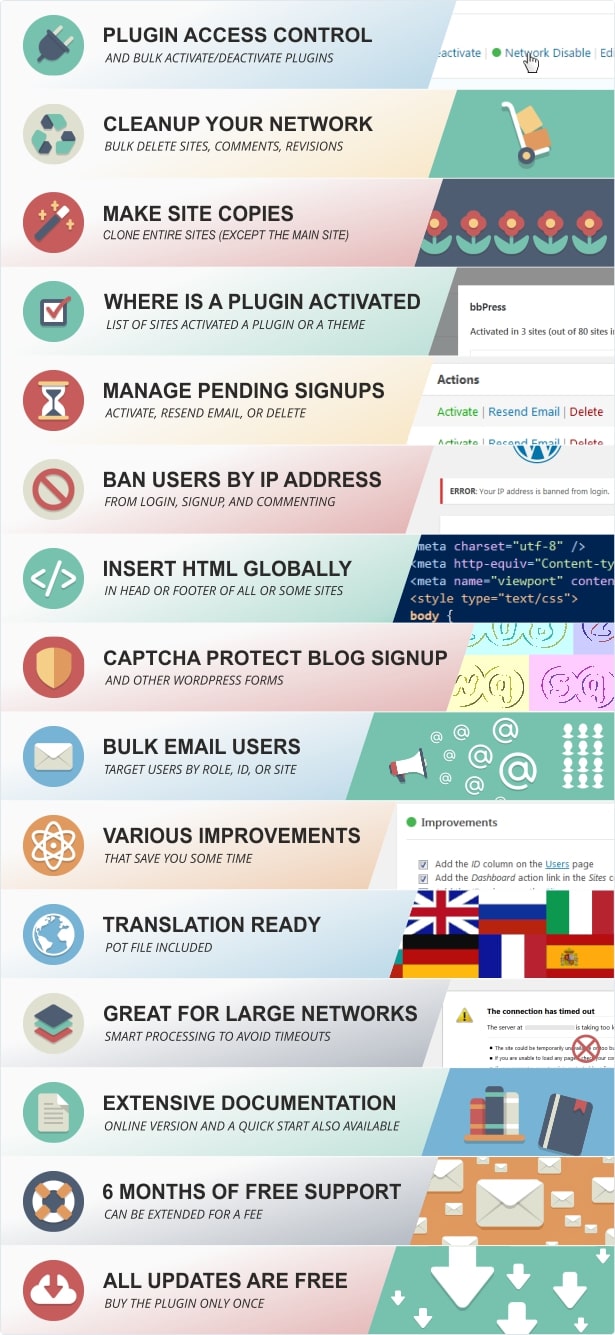 Short Description
Beyond Multisite helps WordPress multisite network administrators to better control, protect, and clean their network.
Features
Network disable plugins
– Disabled plugins are hidden from site administrators on the plugins screen (so they cannot activate/deactivate)
– Site enable plugins to allow plugin activation/deactivation for only some sites
Bulk activate/deactivate plugins
– Target all or some sites by ID
Bulk delete comments
– Target all or some sites by ID
– Target sites with at least X comments
– Delete comments based on age, status, or containing a URL
Bulk delete revisions
– Target all or some sites by ID
– Leave recent revisions
Bulk delete sites
– Target empty or old sites
– Target by attribute or site ID
– Permanent or soft deletion
– Delete now or schedule a future deletion
– Notify site admins for a scheduled deletion and allow cancellation
– Choose maximum email notification sending speed
Bulk delete leftover database tables
– They belong to permanently deleted sites
Copy Sites
– Fully duplicate a site, except the main site
– Internal links are updated to the new site URL
– A detailed debug log is generated
Automatically replace newly created sites with a copy of a template site
– Options to copy or not: users, site title, site admin email
– Internal links are updated and a log is generated like in normal site copying
– The Super Administrator chooses the template site in the options (not the user), and it cannot be the main site
View sites that have activated a plugin
View sites that have activated a theme
Manage non-activated signups
– Activate signup
– Resend activation email
– Delete signup
– Search by username or email
View user last IP address and country
– Quick links to IP blacklist information sites
– Find users with the same IP address as a chosen user
Ban users and their IP address
– The ban denies login, signup, and commenting
– Ban permanently or for 7, 30, or 90 days
– Users must login once while the plugin is active (to detect IP)
Insert HTML globally
– Target all or some sites by ID
– Insert in head (before </head>) or footer (before </body>)
– Insert on front-end and/or back-end
Protect WordPress forms with a customizable captcha
– Easy to read by humans, hard to read by spam bots
– Choose character set: numbers, letters, or both
– Choose character count: 3, 4, or 5
– Choose captcha image height: 60, 70, 80, 90, 100, 110, or 120 pixels
– Choose which forms to protect:
– Blog signup
– User signup
– Login
– Lost password
– Reset password
– Comment
Bulk send emails to multisite users
– Target users by ID or role (only default roles) in all or some sites
– Unsubscribe via a link or a profile setting
– Shortcodes for user names or username
– Choose maximum sending speed
– Emails are sent in small chunks
Various improvements
– Show user ID and site ID in the network users and sites pages
– Hide plugin meta (version, author, etc.) from site administrators
– Automatically delete leftover database tables on permanent site deletion
– Show an icon for sites that disallow search engine indexing
– Show a role icon for each user site in the network users page
– Option to turn on/off any of the improvements
Client Reviews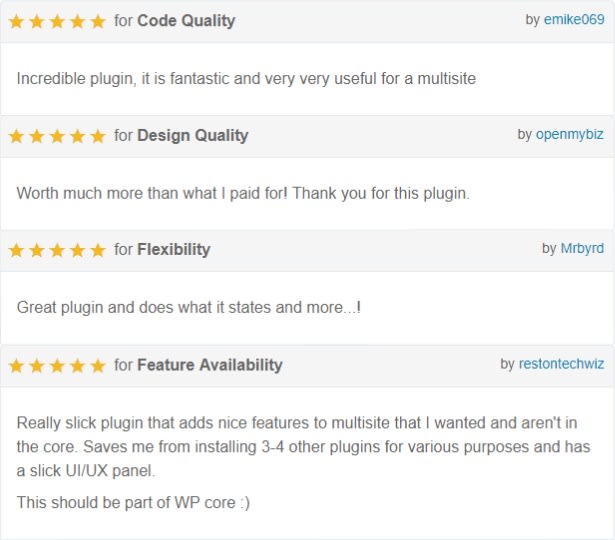 Translations
Everything in Beyond Multisite, except the log generated when copying a site, is translatable. A POT file is included. Read translation instructions. Completed Bulgarian translation files are also included.
Requirements
WordPress 4.6 or higher
WordPress multisite enabled