Super Store Finder for WordPress is a fully-featured store locator WordPress plugin integrated with Google Maps API v3 that allows customers to locate your stores easily. Tailor-made with intuitive responsive design for smartphones, tablets and touch screen devices. It has powerful administrator that allows you to manage stores, tags/categories and customize styles, colors, labels, notifications, regions and map settings.
Setup is really easy and quick (Refer installation guide documentation here and our world-class support is always reliable and fantastic.
This plugin is compatible with Visual Composer and Cornerstone.
Main Features
Easy to install and use Store Locator WordPress Plugin
Responsive Design and tailor-made for mobile devices
Flat theme store locator
Multiple store locator layouts to choose from
Supports Full Width Google Maps display
Supports multi-language (compatible with WPML or translation plugin)
Manage unlimited store locations
Store Locator Analytics Tracking feature to track your store views, most viewed stores, location searches, telephone and email clicks, as well as generate analytical reports.
Full screen Street View feature
Extensive Map settings to show all stores, specific location or geo location
Well-designed Store Filter with Collapsible Panel
Intuitive user-interface and notifications
Total stores counter
Manage Store Tags and Categories with Filters
Customizable Region Filters
Customizable Country Filters
Customizable styles and colors via administrator
Customized labels and text captions
Labeled map markers
Import/Export address list using CSV file format
Upload beautiful images with zoom feature
Display embedded video showcase on your store locator
Support custom markers
Drag and Drop markers or enter latitude or longitude manually during add/edit store
Built-in contact form for each store
Request add location form
Publish / Unpublish stores easily
SEO Friendly Store Locator
Can be used as Distributor / Dealer Locator
Extensible Features by using available add-ons (Learn more about add-ons here)
Features Highlight
Fully responsive and tailor made for mobile devices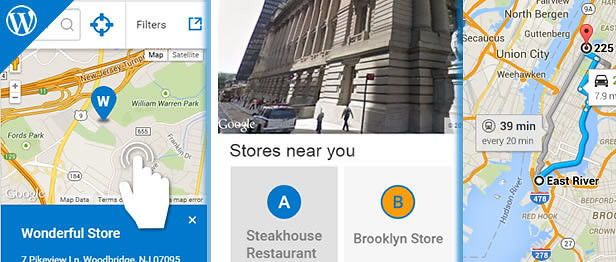 Super Store Finder for WordPress has intuitive responsive design with the highest aesthetic and is tailor-made for mobile and touch-screen devices. Multiple store locator design layouts are available which can be changed from admin settings page.
Multiple Layouts For Your Store Locator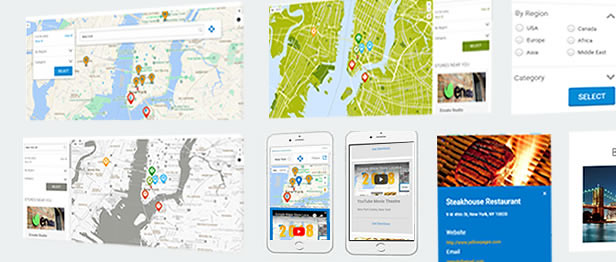 Super Store Finder for WordPress is fully responsive and supports full-width display as well as works wonderfully on mobile devices, tablets and smartphones. Multiple layouts are included in one plugin.
Powerful WordPress Store Locator Admin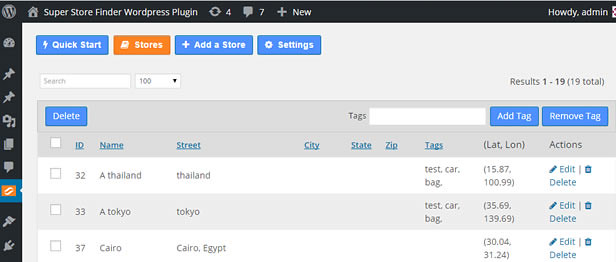 Manage your stores, tags, styling, map settings, labels, captions, regions, etc via powerful store locator admin.
Store Locator Analytics Dashboard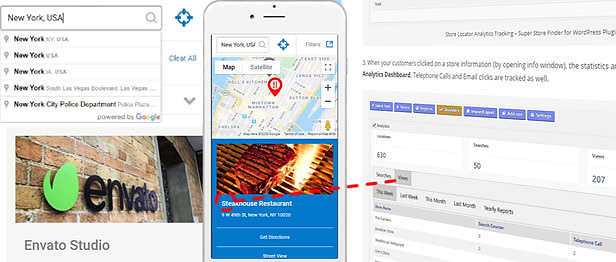 The Store Locator Analytics Dashboard feature allows you to track your stores activity such as store views, customer searched location, telephone and email clicks. You can generate weekly, monthly and yearly analytics report into Excel and CSV format.
Built-in Exact Geo Location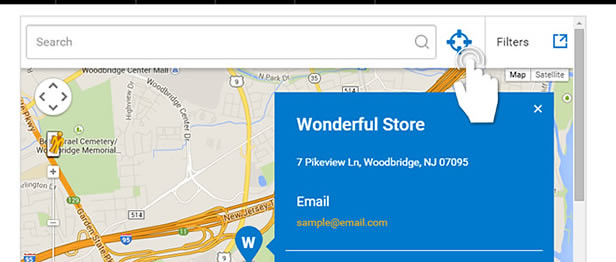 Super Store Finder is built-in with exact Geo Location which allows your customers to route and get to your store outlets the easiest way.
Extensive Map Settings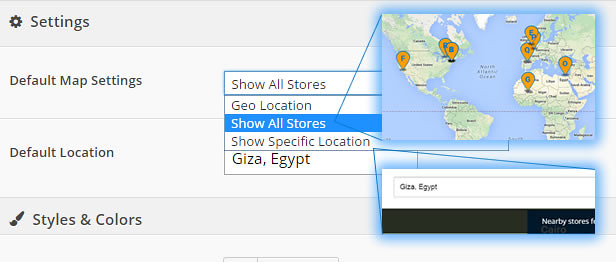 Decide to show all stores, specific location or use geo location when customers start browsing your store locator
Google Street View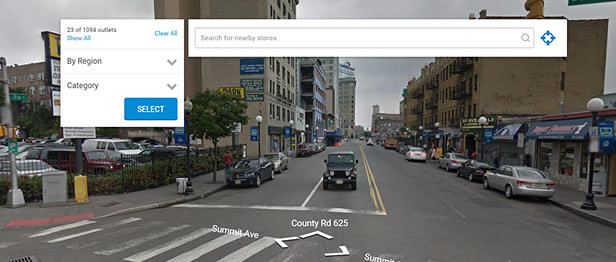 Enjoy viewing street view in huge scale screen size. Zoom, pan and navigate through the panoramic view of your favorite outlets world-wide
Slick Collapse-able Panel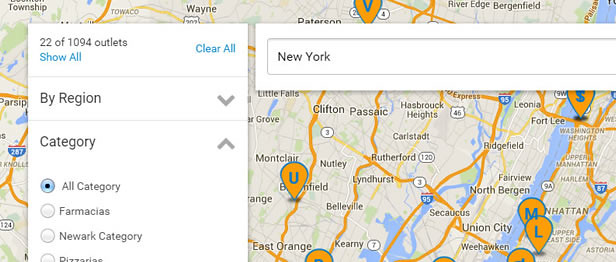 Slick Collapse-able panel to showcase available categories/tags and available regions which can be fully customized via admin.
Upload Beautiful Images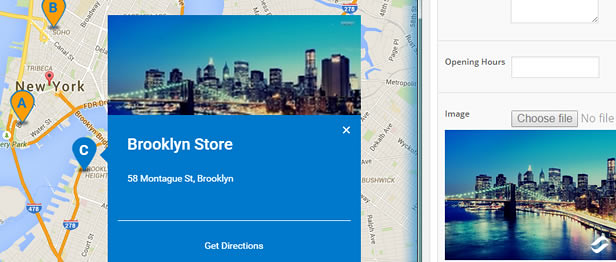 You can upload beautiful images that will be displayed on your ever engaging store locator.
Showcase a Video on your Store Locator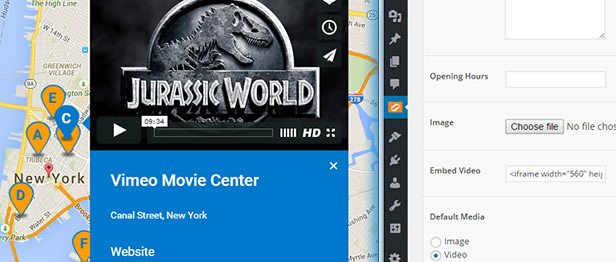 You can embed videos from YouTube, Vimeo, etc. to your store locator. Get customers to watch what you have to offer or let them watch a sneak peek trailer.
Set Custom Markers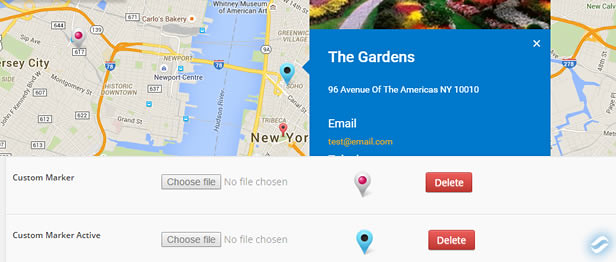 Have your own custom markers? Now you can simply upload custom markers via administrator.
Search stores by Region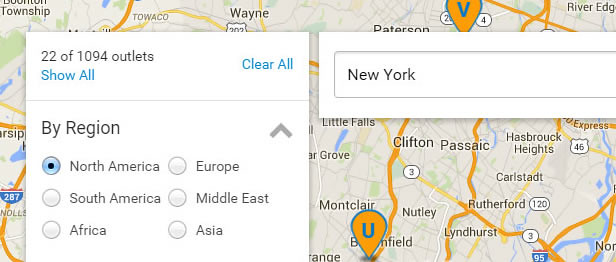 You can now search stores by regions world-wide. As an administrator, you can customize point of interest which you can set for your customers to quickly know on your whereabouts.
Search stores by Country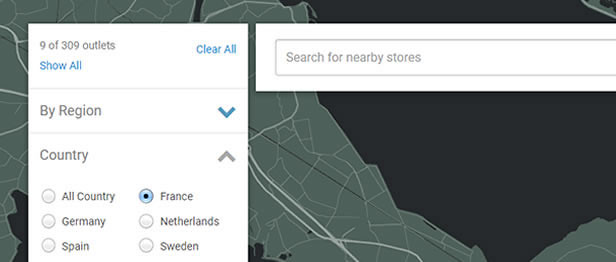 Allow customers to filter your stores based on country. As an administrator, you can enable this setting via admin settings page which allows you to set countries to your stores.
Contact Form for Individual Store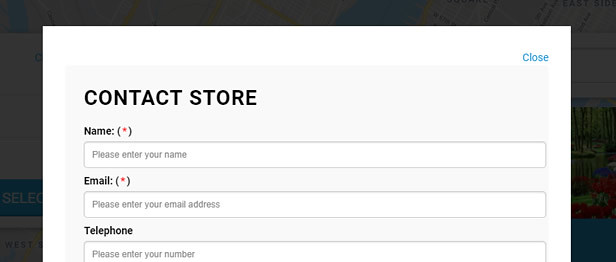 Each store is built-in with contact form which has multiple settings to send to individual store or admin setting email.
Import and GeoCode Bulk Address List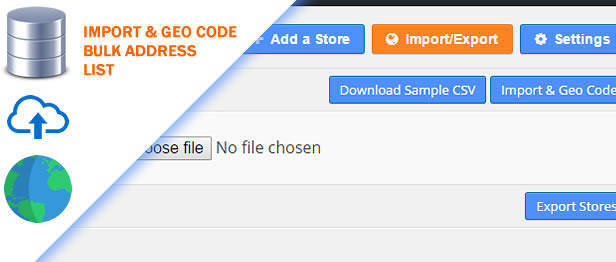 You can import and geocode bulk address list from csv file without any hassle via the administrator.
Drag and Drop Map Markers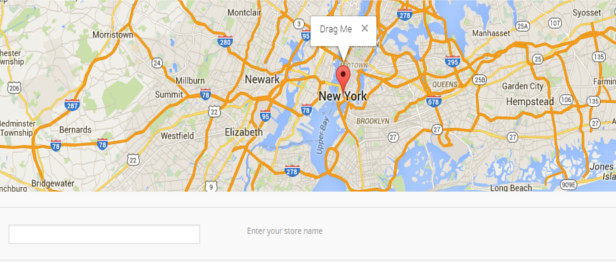 For precise latitude and longitude position, you can drag and drop the markers to pin point the most exact location of your stores.
Set your own labels for your store locator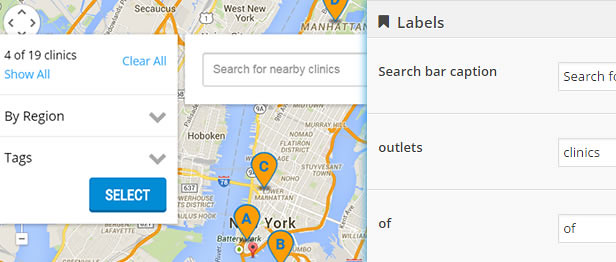 For instance, if you would like to showcase clinics, you can customize the labels and captions to suit your store locator via admin settings.
Customizable Colors and Styles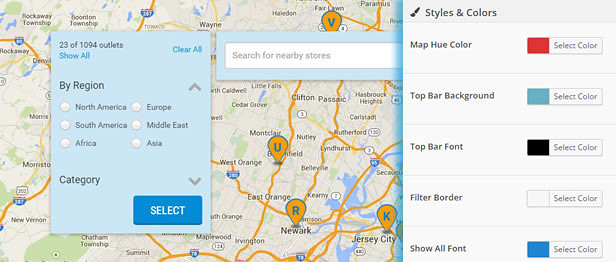 Customize Colors and Styles for your store locator to suit your company and website branding / corporate branding. You can change the map color, panel colors, text colors and many more from the administrator's panel.
Custom Map Styling Code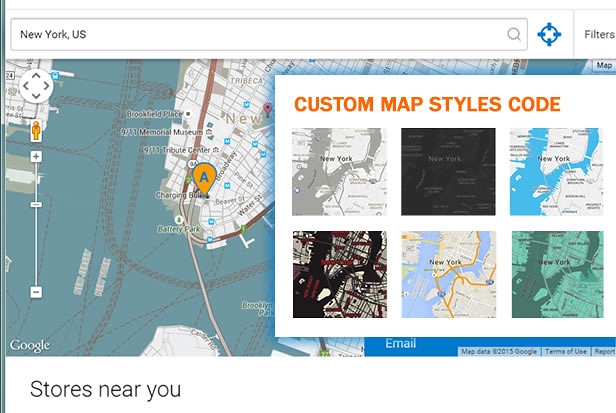 Need a map style that suits your website user interface? You can use custom Google Maps code, or easily get great available style codes from snazzymaps.com and copy/paste it via admin settings page.
What are buyers saying about Super Store Finder
"First, I would like to say?Great Job! One of the better store locator systems I have come across."
-gruberdesigns
"I just bought this and started using it on my site within minutes. I am not a programmer and this was still very easy!"
-amymariejones33
"Just purchased the Super Store Finder and it's fantastic, exactly what my client needed and just the right level of customisation, so thank you for your efforts! Great value script."
-Anna Trundle
"Fantastic product & best support. thank you?"
-tansuokurer
"This is the best store finder script on codecanyon! Keep up with a great job!"
-Pinki
You can find more reviews from real buyers in testimonials page.

Real world usage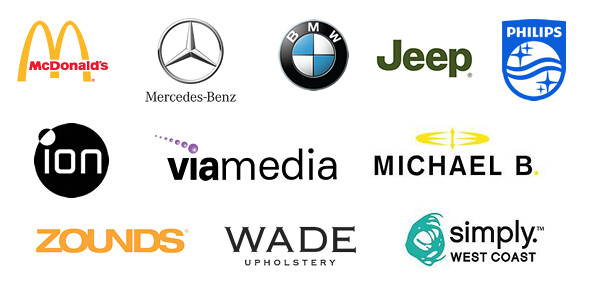 More real world examples available here.
Please note that all store finder designs are copyrighted by their authors.